Lake Garda Carnival 2015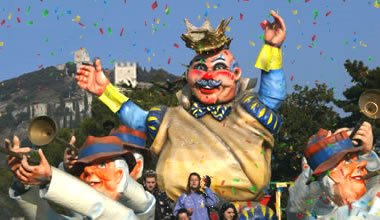 Arco

Carnival 2015
Carnivalarco
From saturday 7 february to sunday 15 february 2015.
Saturday 07 february, saturday 14 february - Viale delle Palme from 02:00 pm: SKATENATEAM mini bike obstacle course, Carnival train, rides and theatrical laboratory for boys.
Sunday 08 february, sunday 15 february - from 02:00 pm: carnival floats, pirates on stilts, costume parade, music and Brazilian percussion.
Thursday 13 february - CasinÚ di Arco from 09:00 pm: ArcoRida comedy show.
Saturday 14 february - CasinÚ di Arco from 09:00 pm: masked ball.
Bardolino

Carnival 2015
Carnival of Bacchus and Ariadne
Saturday 14 february 2015.
From 02:30 pm - to 07:00 pm from Gramsci square arrival in the harbor square: carnival floats, costume parade, inflatable games and music.
LAZISE

Carnival 2015
Carnival Party al MarciapiŤ
From Tuesday 17 february to wednesday 18 february 2015.
Tuesday 17 february - on the lakeside Marconi: masks, music, kiosks with gnocchi, sandwiches and frittelle, inflatables for kids.
Wednesday 18 february Arco street: investiture Cape Valar, mask parade along the streets of city center and food stalls with fried fish.
RIVA DEL GARDA

Carnival 2015
Maccheronata and Carnival party
Thursday 12 february and Tuesday 17 february 2015.
Thursday 12 february - square of Church of St. Joseph from 12:00 am - to 15:00 pm: free distribution of macaroni with meat sauce.
Tuesday 17 february Carnival party - Square of the Mimosa from 14:00 am: masked parades, music and entertainment.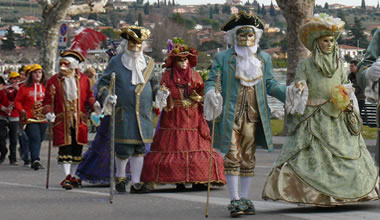 MANERBA

Carnival 2015
Carnival of Valtenesi
Sunday 15 February from 14:30 pm.
Sports hall: parade of carnival costumes, music, frittelle, inflatables, jugglers, clowns, acrobats, stilt walkers, and a lot of fun.
SALO'

Carnival
Carnevalando
February (waiting for official confirmation).
Vittoria square: mega inflatables for all ages, 4D cinema, magic show and Frittelle.
SIRMIONE

Carnival
Carnival in Sirmione
Sunday 15 February and thursday 17 february.
Parish of Colombare and Lugana: animation, various games, inflatable games, awarding the best mask and distribution of frittelle and drinks.
Hotels open on Christmas and New Year