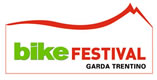 Bike Festival 2016
Riva del Garda "Bike Festival"
29 april - 01 may 2016.
Like every year at the Lake Garda, with Bike Festival, starts the mountain bike Europe Season receiving thousand mountain bikers for a crazy week-end full of adrenaline and fun. From the 29 april to the 1st May 2016 Riva del Garda and all the North Lake Garda will be the place to be for the mountain bikers who would like to discover wonderful natural landscape with extraordinary views and gorgeous trails which made this territory famous all over the world. But in only 3 days there will be also the opportunity to meet the most famous and large producers of the mountain bike scene with all the new models and innovations. The sporting highlight of the BIKE Festival Garda Trentino will be as usually the Rocky Mountain BIKE Marathon, beside there will be a proven program mix for every guest.
The bike festival takes place at the Palazzo dei Congressi, Largo Medaglie d'Oro al V.M., 38066 Riva del Garda, (TN) Italy.
Bike Festival: 150 producers – 300 brands

In a large expo area 150 producers, with more than 300 brands, will show to the visitors and to the athletes all their last products but they also will offer good advices and test bikes! Some of the producers will sell directly the products during the Festival. The BIKE Festival Garda Trentino is really the biggest and most important Bike Expo in Europe.
Rocky Mountain Bike Marathon

30 april 2016
The Marathon leads more than 2.000 riders, that starting from Riva del Garda between 4 different race distances will return in the city center after reaching the top of the surrounding beautiful mountains. The exclusive views and the dizzying downhill will be the reward for the done effort.
You can choose between four different routes:
Registration for the competition:
To register to the "Rocky Mountain Bike Marathon", please go to the website: www.online-registration.de
Additionally to the Marathon there will be also:

"Scott Junior Trophy" Kids race (between 3 and 14 year hold - distance from 1km to 8 km with different levels of difficulty).
"Radon Pump Battle" Speed race at the harbor (distance 100m).
"North Lake Enduro" Enduro race.
"Canyon Pumptrack" Freeride race on an artificial track with parabolic bumps and jumps.
Organizer of the event:
Delius Klasing Verlag GmbH
Siekerwall 21
33602 Bielefeld
Bike Festival event program

Friday 29 April 2016
10:00 – 19:00 BIKE Festival Garda Trentino - Expo (free entry)
10:00 - 18:00 guided tours with local guides (MTB e eMTB)
10:00 - 19:00 "Rocky Mountain BIKE Marathon"
"Scott Junior Trophy" (Race registration)
11:00 official opening of the Bike Festival
13:30 – 14:00 Fabio Wibmer Trail Show
14:00 – 19:00 Pasta-Party
14:30 - 16:30 "Canyon Pumptrack" powered by mtb -academy (Training)
15:00 – 17:00 "Radon Pump Battle" (Race registration and Training)
15:00 – 19:00 "North Lake Enduro" (Race registration)
16:30 – 18:00 Chill Out – Yoga for Bikers
18:00 – 19:00 "Radon Pump Battle" (Qualification race)
19:00 "North Lake Enduro" Riders Briefing
19:15 – 19:45 Fabio Wibmer Trail Show
20:00 "Radon Pump Battle" (Start Race)
In connection "Radon Pump Battle" (Awards ceremony)
Saturday 30 April 2016
06:00 - 07:30 "Rocky Mountain BIKE Marathon" (Race registration)
07:00 "Bosch eMTB Marathon supported by Trek" (Start Race)
07:30 "Rocky Mountain BIKE Marathon" (Start Race)
08:00 - 11:00 "North Lake Enduro" (Race registration)
09:00 - 17:00 "North Lake Enduro" (Training)
10:00 - 19:00 BIKE Festival Garda Trentino - Expo (free entry)
10:00 - 18:00 guided tours with local guides (MTB e eMTB)
10:30 - 12:00 Hour of Power – Yoga for Bikers
11:00 – 11:30 Fabio Wibmer Trail Show
11:00 - 12:30 "Canyon Pumptrack" powered by mtb-academy (Training)
14:00 "Rocky Mountain BIKE Marathon" Ronda Facile & Piccola & eMTB (Awards ceremony)
14:00 - 16:00 "Canyon Pumptrack" (Race and Awards ceremony) powered by mtb-academy
14:00 - 18:00 "Scott Junior Trophy" (Race registration)
15:00 - 15:30 Fabio Wibmer Trail Show
16:00 - 17:00 "Rocky Mountain BIKE Marathon" Ronda Extrema & Grande (Awards ceremony)
17:00 – 18:30 Chill Out – Yoga for Bikers
19:00 - 22:00 OPEN NIGHT at the Expo area
22:00 - 02:30 RIDERS PARTY
Sunday 1 May 2016
08:30 "North Lake Enduro" (Start Race)
10:00 - 16:00 BIKE Festival Garda Trentino - Expo (free entry)
10:00 - 12:00 "Scott Junior Trophy" (Race registration)
10:00 - 16:00 guided tours with local guides (MTB e eMTB)
10:30 - 12:00 Hour of Power – Yoga for Bikers
10:30 - 12:00 "Scott Junior Trophy" (Start Race) age class 2012 - 2007
12:30 - 14:00 "Scott Junior Trophy" (Start Race) age class 2006 - 2001
14:30 "Scott Junior Trophy" (Awards ceremony)
16:00 "North Lake Enduro" (Awards ceremony)
16:00 official Bike-Festival closing