Reach the lake Garda
Lake of Garda, with its 370 sqKm, is the largest lake in Italy.
The 158 km length for coastline are crossed by two main roads: the eastern Gardesana and the Western Gardesana. Verona and Brescia's airports as well as the two railway lines and highways (A1 and A22) will allow you to get to the lake. An extensive network of buses, boats, ferries and taxis (Transfer) are available to move around Lake of Garda.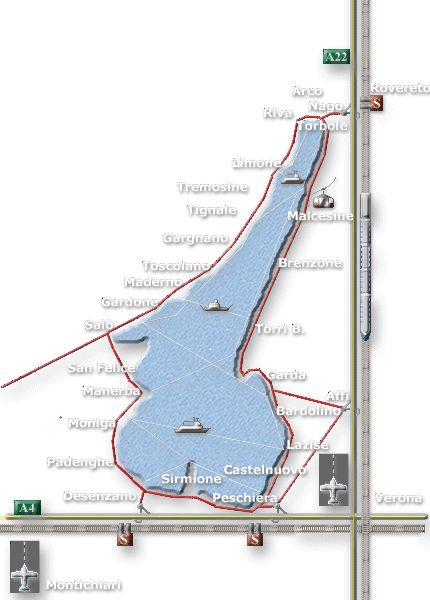 Choose the means of transport
Taxi & Transfer :

Highway

Car:
Highways exits: Rovereto sud - Affi - Peschiera - Sirmione - Desenzano Brescia Est
Select here. On the highway and the direction of travel you will see the suggested exit to reach the various destinations on Lake of Garda
Highway A22

.
Reisezielen
Autobahn
Ausfahrt
Nago - Torbole - Riva - Arco Limone Tremosine - Tignale Gargnano Toscolano Maderno Gardone - Salò San Felice Malcesine - Brenzone
Torri del Benaco
A22
Rovereto south(Lake Garda North)
Garda - Bardolino - Lazise Castelnuovo - Peschiera Sirmione
A22
Affi
(Lake Garda South)
Desenzano - Padenghe - Moniga Manerba - San Felice
A22
changing A4
towards Milan
Desenzano
Highway A22

Reisezielen
Autobahn
Ausfahrt
Nago - Torbole - Riva - Arco Limone Tremosine - Tignale Gargnano - Malcesine
A22
Rovereto south(Lake Garda North)
Garda - Torri B. - Brenzone
Malcesine - Bardolino - Lazise
A22
Affi
(Lake Garda South)
Peschiera - Castelnuovo Sirmione
A22
changing A4
towards Milano
Peschiera
Desenzano - Padenghe - Moniga Manerba - San Felice - Salò Gardone Maderno - Toscolano Gargnano
A22
changing A4
towards Milano
Desenzano
Highway A4

Reisezielen
Autobahn
Ausfahrt
Peschiera - Castelnuovo Lazise - Sirmione
A4
Peschiera
Desenzano - Padenghe - Moniga Manerba - San Felice - Salò Gardone Maderno - Toscolano Gargnano
A4
Desenzano
Garda - Torri B. - Brenzone Malcesine - Bardolino
A4
changing A22
towards Trento
Affi
(Lake Garda South)
Nago - Torbole - Riva - Arco Limone- Tremosine - Tignale Gargnano - Malcesine
A4
changing A22
towards Trento
Rovereto south(Lake Garda North)
Highway A4

Reisezielen
Autobahn
Ausfahrt
Salò - Gardone - Toscolano-Maderno - Gargnano
Tremosine - Tignale - Limone Riva - Torbole - Arco
A4
Brescia East
Desenzano - Padenghe - Moniga Manerba - San Felice - Sirmione
A4
Desenzano
Peschiera - Castelnuovo
Lazise - Bardolino - Torri B. Brenzone
Malcesine
A4
Peschiera
Nago - Torbole - Riva - Arco
A4
changing A22
towards Trento
Rovereto south(Lake Garda North)