Tours at Lake of Garda
Lake of Garda, with its beautiful scenery, offers a wide range of excursions and tours. This page has a collection of the most beautiful and most visited sites.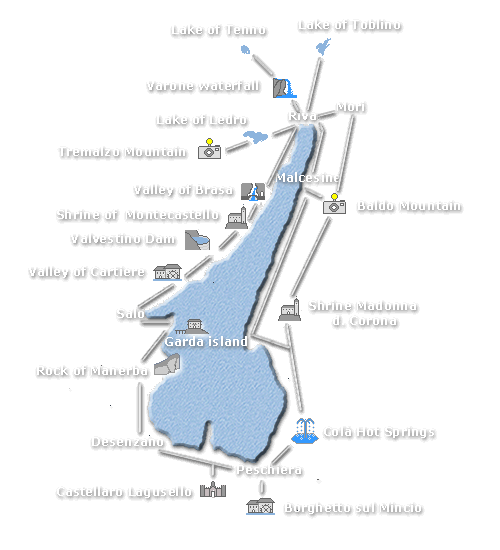 Lake of Ledro
650 m in height, with its turquoise waters and picturesque villages on the shores, the Lake of Ledro is waiting for a dive from you in the silence of nature.

Tremalzo Mountain
It is a paradise for mountain bikers, thanks to muletracks that have been carved into the rock during the past wars. You can reach breathtaking viewing points.

Here nature has left a sign of his strength. The water has opened a grand opening in the hard rock, taking millions of years, and deep canyons go along with waterfalls.


A unique panoramic position, for a spiritual pilgrimage to the ancient Shrine of Our Lady of Montecastello, built in the ninth-century.

This beautiful artificial lake is the only tangible sign of time passing in a valley that has stopped its life in the last century.


Up the valley along the paths that run beside the river Toscolano, we can admire the ruins of old mills and paper factories built from 1300 onwards.
Tours list:

Lake of Toblino
Its small size enhance the concentration of historical, natural and landscaped particulars. It is a biotope protected since 1922 because of its particular climatic conditions.

Lake of Tenno
Its turquoise-blue waters are a natural mirror for the surrounding mountains and are also considered the cleanest waters in Italy.

Fthis cascade falls to 90 meters inside a cave. Two points of view can be accessed: one at the base and one at 40m higher. It is part of a private natural park.

Baldo Mountain
From its highest peaks, which are Altissimo and Telegraph (2,200 m in height), the panorama stretches from the Alps to the lakes and in days with clear weather to the Venice lagoon.

This spiritual corner is isolated from the rest of the world and hollowed into the rock, you can feel a sense of peace and devotion.

This is a beautiful park, a pond of thermal water at 34 °C with 2 tanks at 37°C and 39 °C, and there is water jet that reaches a height of ten meters.

This old mill village seems to float stranded on this ford, as if it is waiting the rise of water in order to continue its journey.

Ancient village surrounded by walls, can be reached through the door of the stately tower and the small lake is the backdrop to the picturesque houses.

Its charm comes from the beautiful neo-Gothic Venetian style villa, built in the beginning of 900 and surrounded by terraces and formal gardens that lead down to the lake.


A high bluff overlooking the lake is home for a splendid archaeological naturalist park, and includes ancient ruins of a large Roman villa.
Excursions to historic towns and lakes of northern Italy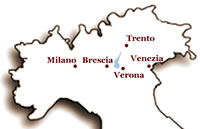 Trento km. 50
Verona km. 25
Venice km. 150
Brescia km. 30
Milan km. 130
Lake Iseo km. 50
Lake Como km. 120
Lake Maggiore km. 170
Minimum distances between Lake Garda and the cities.